Looking for real Sapa tour from Hanoi for trekking adventure and authentic local experiences, 3 trekking days off the beaten path
Why you'll love this Sapa trip from Hanoi
Staying right at local homestay village where their traditional living still remains for ages.
Traveling in private guided tours to ensure all of moments will be satisfied and fun.
Picking up/drop off at hotel in Hanoi by Private A/C car transfer
Unique trekking trails, leading by local Hmong tourguide, best photography opportunity with authentic homestay experiences and local interacting
Avoid from crowded group bus tours and enjoy the best sapa has been offered
Real trekking adventure for those who love nature, wildlife and local approach culture.
Is this trip right for you?
Tailor made this trip suitable for your expectations, fully customizable private tour, on tour with local guides who know well the hidden gems of region adventure. Be with you like a friend, not a guest
Design this Sapa Tour 3 days from Hanoi for any budgets, exclusive hire a tour guide, rent a private car with driver transfer
Local support 24/7 on the tour with locals, get insights of the authentic experience travel
Tour start from and finish in Hanoi, other pickup locations, please advice
Overview 3 Days Sapa Tour from Hanoi
What To Expect
Day 1: Hanoi pickup in the morning by private car to Sapa village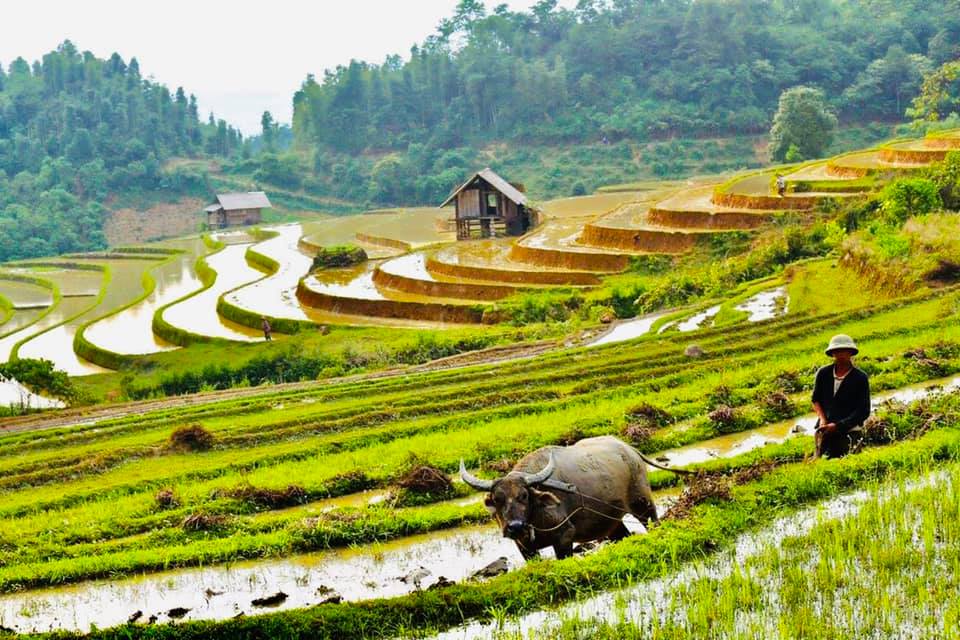 Stop At: Ban Ho Village, Sapa
Picking up at lobby hotel at about 8:00 AM and directly transfer to Sapa village, afternoon walking around the village and waterfall to the rice fields. Not only surprised by the terraced fields, but mixed with the houses of local people along the two streams. Ban Dan village is also the meeting place of two streams Muong Hoa and La Ve. Muong Hoa stream is scenic with a beautiful terrain, temperate climate and traditional Tay villages have created paintings of water charming, passionate people. The stream is too familiar in the daily life of Tay people here Admire the scenery of nature, space and poetic architecture, unique architecture from the wood flooring attached to the life of ethnic people but also live in a warm, friendly environment, also participate in community activities When the sun set, visitors will take a walk around the Ban Ho village, to the brothel weaving brocade and can buy yourself a plate
Meals included:
• Lunch
• Dinner
Accommodation included: Overnight at local homestay in Ban Ho village
Day 2: Trekking through rice terraces from Ban Ho village to Ta Van village along the riverside of Muong Hoa
Stop At: Ta Van Village, Sapa
After breakfast, a lovely trekking day starting from homestay up to Ta Van village, trekking through rice fields, uphills, bamboo forest, waterfall off the beaten track. To Ta Van, visitors not only immerse themselves in the natural scene with murmuring streams, wild birds are calling you to find each other… but also discover the rustic beauty of the village. The village is based on the mountain, in front of the Muong Hoa stream. The village's back to the West and to the East, the house facing northeast. Because the east direction is a rocky mountain, with flowing streams. But this is very fantastic for viewing the valley from the main road). The other is small and narrow. This is wonderful route for Sapa trekking lover
Meals included:
• Lunch
• Dinner
• Breakfast
Accommodation included: Overnight at local homestay in Tan Van village
Day 3: Ta Van village trekking to Lao Chai – Y Linh Ho – Sapa town and travel back to Hanoi
Stop At: Y Linh Ho, Lao Chai
Today keep going to trek from Ta Van village to Y Linh Ho village nearby Sapa center town. After trekking noon time transfer to Sapa town for lunch and walking around the Sapa city before heading back to Hanoi. You are going to have a chance of going along such a beautiful valley lying between hills. The clean Air from the highland of Vietnam is really ideal for taking a stroll. This village is home to the Black H'Mong who wears very dark clothes in black and navy dyed with indigo. Here you may enjoy the beautiful and intriguing scenery of those villages. This is your opportunity to visit the H'mong people dwelling in their wooden and bamboo houses. Then wander beside the river in Lao Chai village
Meals included:
• Breakfast
No accommodation included on this day.
What's Included
2x Breakfast 2x Dinner 2x Lunch Accommodation included: 2 nights Pickup/drop off by Private A/C car Awesome local Hmong tourguide
Excluded: Travel insurance, tips and gratitudes, beverages, drinks and person expenses Others not mentioned in itinerary
Direct Contact Details for inquiry
Hotline: + 84-97 33 22 309 and whatsApp/Viber: + 84 369 283 168
How To Book:
Just let us know more information about you & send us an e-mail: tony.vietnam@hotmail.com and whatsApp: + 84 369 283 168
More videos on Tony Vietnam Tours, pls visit on Youtube channel: Tony Tours Vietnam

TALK TO US: Call or WhatsApp +84 369283168