Where is Cao Bang province?
Cao Bang is located in the far North East of Vietnam with long boundary with Chinese border away Hanoi about 290KM. its homeland of many different minority ethnic groups such as Tay, Nung, Hmong, Dzao live harmony with their own traditional customs.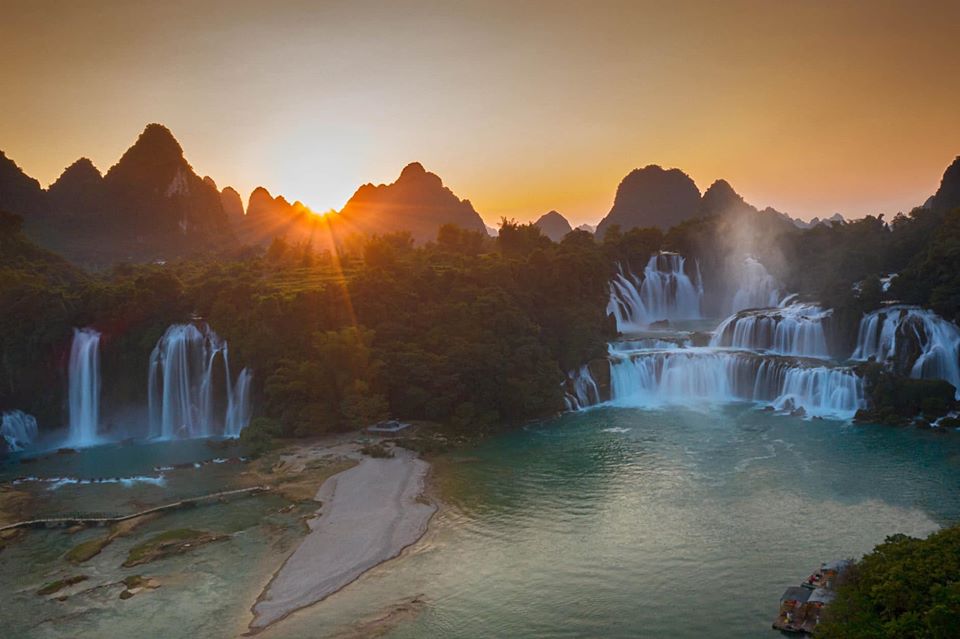 Cao Bang is one of the poorest areas in Northern Vietnam, though travel to unforgotten places where is still a bit difficult due to infrastructure, bumpy road, muddy dirty trails in to the villages and up mountains.
However Cao Bang has been one of the best places at Northern Vietnam to visit for foreigner travelers together with Ha Giang – Ba Be lake national park.
What making Cao Bang is worth to visit and stay there for your adventures?
I often travel to Cao Bang for my job as tour guide and amateur photography and also surrounding areas nearby to look for a new route for adventure so I was totally overwhelmed and fascinated by its beautiful scenario and people over here.
Landscapes of Cao Bang is the most stunning pictures I have ever had so far, beautiful sunrise and sunset that boomed out the day brilliantly over the top mountains and river, beside massive green bamboo tree growing elsewhere.
Places to Visit:
Ban Gioc waterfall
The 4th biggest waterfall in the world is border with China , 200 meter wide, 70 meter height divided into 3 sections. so much fascinated waterfall to see the changing color due to weather of the day.
Nguom Ngao Cave
The Nguom Ngao Cave close by 4 km from Ban Gioc waterfall is one of the most biggest cave in Cao Bang and amazing to visit during your trip. It is about 2 kms long and verify different chamber with huge room by stalactite and stalagmite coming up and down. It is so much fascinated cave in Northern Vietnam.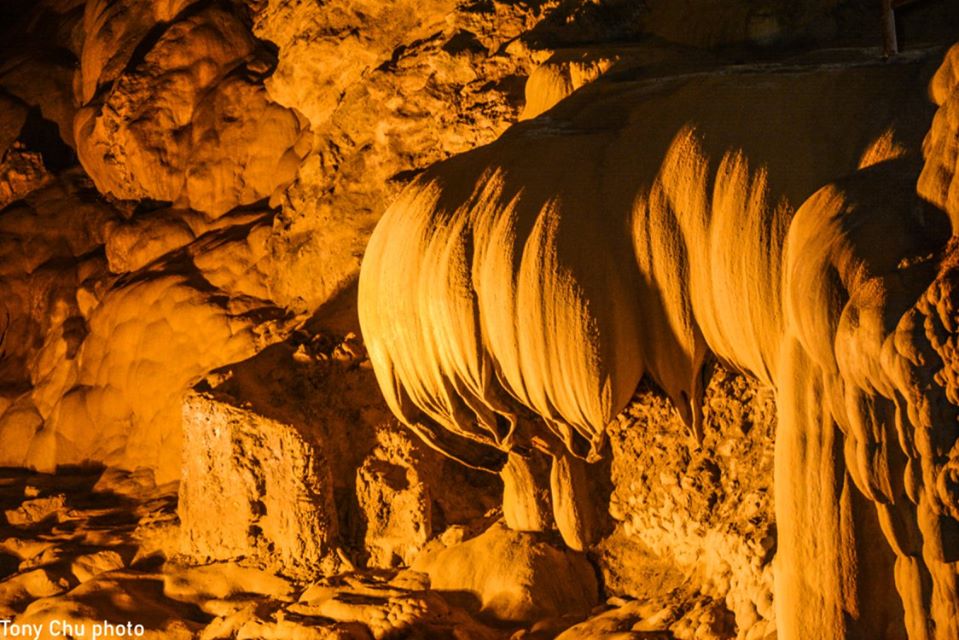 Phat Tich Truc Lam Pagoda in Ban Gioc waterfall area
The Truc Lam Pagoda is right side of Ban Gioc waterfall overlook to fall and massive mountain views to rice fields. Walking up to top of mountain is great to enjoy the best views of location. Charming green mountain ranges and river surrounded.
Trung Khanh Village areas
One of the village in Cao Bang is dotted by mountains, hills, river, rice fields, cottages of local residents emerging for a paradise on earth. This is one of the most beautiful place in Cao Bang for photography and adventure lovers, in the morning weather is a bit foggy and misty when the sun comes out, it turns into magic color by natural lights, the road is so much accessible to this site along street of rice fields.
Ngoc Con Village areas
It is far away from Trung Khanh central district about 30 km, another spot appears stunning and wow beauty that never ever seen it before. This is a really cool place for photography adventure
Khuoi My village of Tay ethnic tribe
It is a very old traditional village of Tay ethnic group in Cao Bang, near by Nguom Ngao Cave, its home of original Tay group that remains their cultures and lifestyles for ages, characteristics of housing, dressing, living is still existed nowadays, and their home is also open for homestay where people can stay and enjoy their culture in their welcoming and friendly pace .
Traditional villages of Nung ethnic group for incense making and blacksmith workshop
Among those handcrafted village in Cao Bang is worth to visit during the trip that seeing how local people keep their traditional job for hundred years. it does not bother by any commercial life outside. simple basic living through out the ages, growing farms, cattle, hunting ect.
Engle Eye Mountain
"Mountain Angel eye" or "Phja Piot" (in Tay language means a mountain with through-going hole) is in Quoc Toan commune, Tra Linh district.
Mountain Angel eye is in fact a rounded through-going cave c.50m in diameter and c.50m high above the lake. The present day altitude of the cave is due mainly to recent tectonic uplift movements.
The cave has developed in a tower karst landscape at the altitude of c.650-700m asl, that consists of karst towers and cones alternating with several tens of lakes in their between, all together constituting the so-called Thang Hen Lake System. A peculiar feature of the Thang Hen Lake System is that the lakes are inter connected and eventually connected with surface and/or underground flows.
Hence the water level in the lakes can change seasonally, sometimes very rapidly. So on the pathway toward the "Mountain Angel eye" visitors may be surprised to find a lake, around 15ha in area when full of water and locally known as the Nam Tra lake, during the rainy season (June-August), and a doline instead, in the dry season (September onward), where local farmers can graze cattles on pasture. Also worth visiting is the beautiful Nam Tra waterfall on a stream of the same name on the right side of the lake, just about 500-600m and 10 minutes walk.
In addition to this unique "Mountain Angel eye", along this pathway, which takes only about 15 minutes, visitors may also enjoy the wonderful, intimate and peaceful interaction between the local Tay people in the Ban Danh hamlet, with stilt houses, yin and yang tiled roofs, stone fences, paddy fields of rice and maize, water buffaloes and cows etc., and the surrounding green and mature karst landscape, which will surely help them relax and recover from their stressful daily life.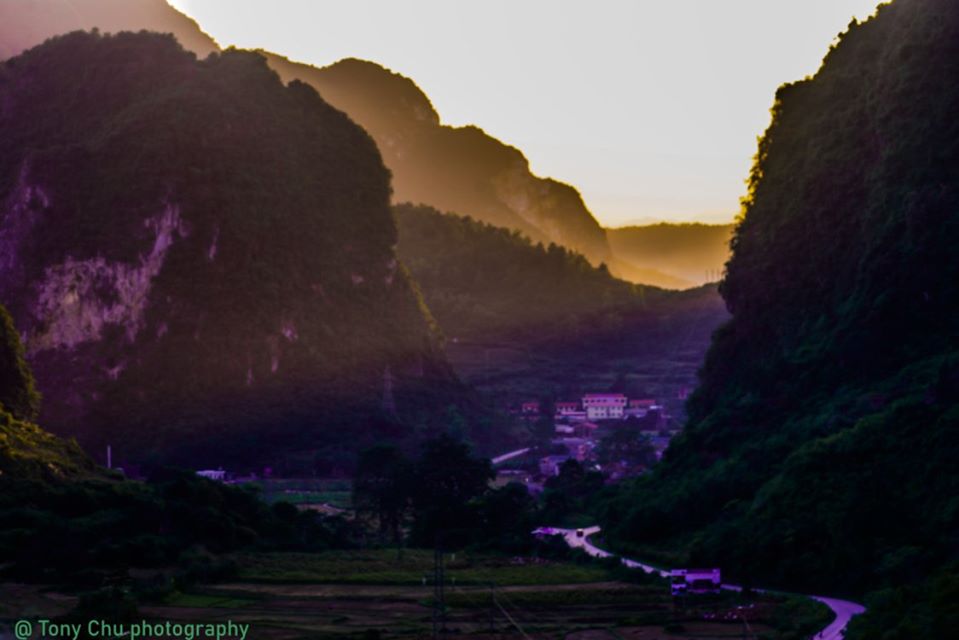 How to get Cao bang? Transportation and Tips
There are some bus company in Hanoi provided bus tickets at station, it takes 5 -6hrs to get Cao Bang city.
There are two main road to Cao Bang: one is via Bac Can province to Cao Bang city. Another one is high way Hanoi to Lang Son city and to Cao Bang city.
However it is best option that you can rent a car with driver to get there during your trip for more easier and flexible if possible, check it out webiste: hanoicarhire.com for car rental with good option and cost.
Where to stay and Accommodation?
In Cao Bang city center
There are many options for accommodations: resorts, hotels and homestay available at all cost
At Cao Bang city where you can take a trip to Ban Gioc waterfall and surroundings
In Trung Khach center district
Hotels and homestay are available to book online or you can access easily on arrival at all costs
In Ban Gioc waterfall district
Hotels and homestay available at all cost to book online or access easily on arrival.
Tour and activities:
Free feel ask tourguidevietnam.com or Tony Vietnam Adventures for any questions or inquiries about Cao Bang tour packages and thing to do in such an amazing place
Direct Contact Details for inquiry
Hotline: + 84-97 33 22 309 and whatsApp/Viber: + 84 369 283 168
How To Book:
Just let us know more information about you & send us an e-mail: tony.vietnam@hotmail.com and whatsApp: + 84 369 283 168
More videos on Tony Vietnam Tours, pls visit on Youtube channel: Tony Tours Vietnam
Keep in touch: https://www.facebook.com/tonyvietnamadventures/
1. Full Name:
2. How many People (Adult & Child):
3. Date of Tour:
4. Tour's Name:
5. Your Hotel: Please make sure that you have booked under your name
And then we will provide you a fully itinerary & useful information for our confirmation
(Don't get it, Please let us know)
2.Amazing Sapa – Ha Giang – Be Be lake adventure Northern Viernam 8days

Highlights: Adventure – Trekking – Hill colorful tribe – Natre & wildlife – rice terraced fields – Boating – Panorama pics – Culture – Authentic local experiences – Beautiful landscape – Individual Guided Tours
4. Northern Vietnam adventure Ha Giang loop – Ban Gioc waterfall – Ba be lake – Cat Ba islands – Hanoi 12 days off the beaten track

Highlights: read more on Tripadvisor 12 day individual guided tour of North Vietnam mountains reviewers on Individual Guided Tours for presenting Best Northern Vietnam Adventure
5. Treasure Vietnam Discovery – Saigon – Ben Tre – Can Tho – Da Lat – Nha Trang – Hoi An – Hue – Hanoi – Sapa – Halong Bay – 18 Days
6. Off track colorful Northern Vietnam – Hanoi – Mai Chau – Moc Chau – Dien Bien Phu – Lai Chau – Sapa – Bac Ha – Ha Giang – Cao Bang – Bac Can – Halong Bay – 16 Days
7. Private Northern Vietnam Highlight Tours recommended: Non Touristy – Off beaten track
Private 4 Days Ninh Binh – Cat Ba island sleeping on floating house/Lan Ha Bay from $399US

Hightlights: Trekking in Cat Ba national park – Boating – Kayaking – Beach – Swimming – Fishing – Floating house stay – Non touristy – Individual Private Guided Tours
Private 5 Days Amazing Ha Giang Loop Adventure off the beaten path from $399US

Hightlights: Nature & wildlife – Trekking – Culture – Panorama pics – Stunning landscape of rocky mountains – windy roads – Colorful Mountain tribe – non touristy – Authentic experiences – Individual Private Guided Tours
Private Bac Ha Market – Hoang Su Phi Adventure Heaven on Earth 4 Days from $389US

Highlights: Nature & wildlife – Trekking – Photography – Colorful mountain ethnic people – Heaven on earth rice terraced fields – Adventure roads – Authentic experiences – Individual Private Guided Tours
Private Ninh Binh – Puluong Nature Adventure off the track 3 Days 2Nights from $299US

Highlights: UNESCO Site – nature & wildlife – rice terraced fields – boating – trekking – culture – off the path – photography – Authentic experiences – Individual Private Guided Tours
Private adventure Ba Be lake – Ban Gioc waterfall 4Days/3Nights from Hanoi from $389US

Highlights: Love for nature & wildlife – boating – trekking – photography – sunrise&sunset – adventure off beaten track – Beautiful village lifestyle – Authentic experiences – Individual Private Guided Tours
8. Halong Bay Cruise Trips (UNESCO World Heritage Site – you want your private Halong Bay tour? no strangers, private junket boat, own itinerary, lovely food ect with Halong private tour one day tour
9. Best peaceful and beautiful Countryside tours: (Hoa Lu/Tam Coc/ Trang An – Peaceful, fresh air of rural party with green mountains, river, cave exploring, as regarding Halong Bay on land Tam Coc/Trang an one day private tour
11. Best places for photography car tours to Mu Cang Chai – Sapa – Bac Ha – Hoang Su Phi – Ban Gioc waterfalls

Highlights: Best landscape photography – Sunrise/Sunset – Rice terraced fields – Waterfall – Mountain ranges in the misty/shining – Colorful mountain people – Right time/right location to shoot during the day – professional/experienced local photography guides in each location.