Useful tips for Northern Vietnam Adventure and Things to Do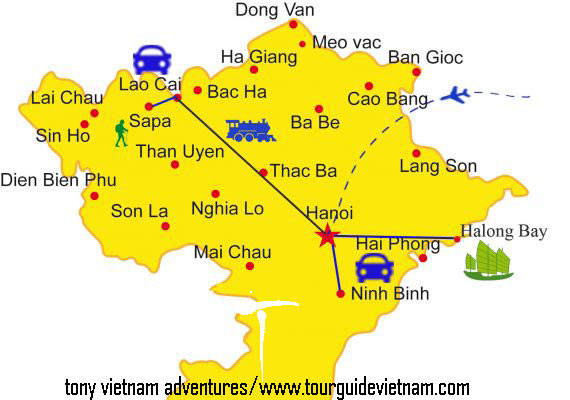 There are many reasons for Northern Vietnam to be your destination of a lifetime. With a wide range of diversity in the landscape as well as in culture authenticity, Northern Vietnam has everything to offer in any time of year. Are you ready to discover the place known as a destination for true travelers?
Northern Vietnam Overview
Northern Vietnam shares a border with China to the north, Laos to the West and the sea to the east. Let's list the things that Northern Vietnam are known for:
North Vietnam is home to the second-largest river delta in Vietnam which is also the most important region in terms of culture – Red River Delta.
Northern Vietnam is also the place where the highest peak in Indochina – Fansipan is located.
A two-time world natural heritage protected by UNESCO belongs to Northern Vietnam – Halong Bay.
This the only region in Vietnam that has 4 distinctive seasons in a year with a cold winter.
Northern Vietnam sees the most diverse in a number of ethnic groups living here with at least more than 30 groups are residing in Northwest Highlands only.
Northern Vietnam was featured as the World's Top 10 Destinations by Tripadvisor many times.
How much time do you need for the Northern Vietnam travel plan?
With the largest area, Northern Vietnam is a vast region featuring many destinations worthy of your trip. So the duration of your trip depends on how many destinations you wish to visit.
Hanoi
A trip covering only the most well-known and basic destinations in Northern Vietnam like Hanoi, Sapa, Halong, Ninh Binh would take you from 4 days to one week. Or if you're taking a trip to Northern Vietnam for a specific purpose like watching terraced rice fields, it wouldn't take long either, 4 days are enough for a sightseeing excursion.
However, you wish to travel in-depth the destinations above, 10 days or more are the most suitable for this kind of trip. Visit all the famous sites and discover them in-depth would take you about 2 weeks or more.
If you're tempted to do the Northern Loop from West to East or visit off-the-beaten-track places, you need no less than 2 weeks. If you're on your own, then at least 3 weeks.
For Family tour to Northern Vietnam, 7 days are perfect and for honeymoon vacation, less than 7 days in northern Vietnam than proceed to Central or South (unless you want to spend your entire honeymoon vacation in North Vietnam, you need more time).
See more Hanoi in the morning
When is the best time to travel Northern Vietnam?
Every time is the best time to visit Northern Vietnam, except for a few months of rainy season. And if you're experienced and knowledgeable enough, you can even visit Northern Vietnam almost all year round. Each destination in Northern Vietnam also has a slightly different best time to visit and different time for festivals.
However, the best time to visit most Northern Vietnam is from September all the way to February or March. This time is also the time of winter/dry season and a little bit of spring in northern Vietnam. You can enjoy riding on the winding roads, clean air, and beautiful flowers this time of year. But it's not all, at this time, you can also join the local year-end and spring festivals.
Where to go and What to do in Northern Vietnam
Hanoi
Hanoi is a mixture of everything. Neon lights are intertwined with the deep colors of the past. Hanoi is the unique tastes, maze-like streets, honking motorbikes, all of that with an underlying quieter tone of a thousand-year tradition.
The most touristic part of Vietnam's capital is Hanoi Old Quarter with 36 trading streets that are also the soul of this city.
As you walk through these streets, the incredible sights will unfold so vividly before of you: women in colorful fabrics and shaded hats will smile at you as you walk by stalls of food the vendors dressed in their colorful daily fabrics and conical hats smiling at you as you walk by their stalls; coffee drinkers sitting on small plastic stools with their café sua and tea to cool chatting vehemently; motorbikes navigating the roads, sometimes up to four people piled behind the driver, maybe even a dog with his paws over the handlebars. It feels just so unreal to be surrounded by that kind of wonderful chaos.
One thing not to miss when visiting Hanoi is trying the delicious street food here. Just wander around the streets, you'll always find something incredible to eat.
Hanoi is a great base for you to travel to other parts of Northern Vietnam, a destination you just can't miss.
Halong Bay
Located on the east part of the north and about 2 hours driving on the new expressway from Hanoi, Halong Bay is an immense garden of limestone islands and islets on the Gulf of Tonkin. Twice designated as the world's natural heritage, Halong Bay won't let any traveler down with its magical beauty.
A bay cruise to emerge yourself in the beauty itself, enjoy sunset and sunrise moments on the bay and admire many other beautiful pieces of Halong Bay would be one of the best travel experiences to have in Vietnam.
If Halong Bay is not enough for you, Bai Tu Long Bay and Lan Ha Bay in the nearby can always satisfy you with the beauty and many activities to enjoy.
If you don't have enough time, a Halong day cruise would be the most suitable choice. However, an overnight cruise on the bay will be the best way to enjoy Halong. Other activities to do around the bay include kayaking, visiting floating villages, caving and more.
See detailed itinerary for Hanoi – Halong Bay – Ninh Binh Trip
Sapa
If Halong Bay is the most famous tourist site in Northeast then Sapa is the travelers' hub on Northwest highland. Located on Hoang Lien Son mountain range of Lao Cai province which is about 350km away from Hanoi, Sapa is known as the misty highland town, blessed with gentle beauty, a hint of French romance and authentic local culture. To get from Hanoi to Sapa, you can travel by train and bus.
Misty Sapa
From Sapa, you can also reach the highest peak of Indochina on Mt. Fansipan (3143m) via one of the most impressive cable car systems on earth.
Sapa is also the headquarter of ethnic people in Northwest Vietnam, with the predominance of H'mong culture. Riding around Sapa even in close proximity, you can't be helped feeling overwhelmed by the magnificent terraced rice fields, especially in the harvest season, Muong Hoa valley's flower gardens, silver-like cascades.
Once visit Sapa, you must join a market fair of ethnic people of which the love market is the most special one of them. In one of these markets, you'll have a chance to see the people come to trade, to communicate and even to find love. It's an experience not to be missed.
More useful information Sapa travel guide
See detailed itinerary for Sapa – Bac Ha market – Ha Giang loop Adventure
Ninh Binh
While Halong Bay is always overcrowded, Ninh Binh Vietnam offers a much more tranquil and closer escape from Hanoi. Located just about 100 kilometers southward, Ninh Binh can be visited within a day, making it a wonderful day trip from Hanoi, either by train, car or motorbike.
Mua Cave
Best places to visit in Ninh Binh: Tam Coc, Trang An, Van Long Nature Reserve and Cuc Phuong. Out of them, Tam Coc is most visited and well-known for its marvelous boat ride, especially in the harvest season with golden rice field floating on the river.
Trang An is most worthy of your visit. The site has been designated as a cultural and natural world heritage by UNESCO. In Trang An, the trendiest place to go right now is Hang Mua which has a spectacular viewpoint to the water and mountains, a lying dragon statue on top of a mountain and graceful chedi where you can pose as you want for your Instagram picture.
Cuc Phuong National Park has to its own a whole different charm with any other destination in Ninh Binh. It offers you a green environment, fresh air, pristine fauna and flora and a lot of things to do. More useful travel guide to Ninh Binh adventure
See detailed itinerary Ninh Binh – Ha Long Bay trip
Mai Chau & Pu Luong Nature Reserve
If Sapa is the captain of Southwest Highlands then Mai Chau or Puluong nature Vietnam is the gateway. Located only 130km away from Hanoi, Mai Chau is an easy destination for a weekend getaway. The place is known for its beautiful landscape, slow-paced life, authentic culture and great food.
Mai Chau is a valley bound by gentle hills – a paradise where you can feel really relax and enjoy the nature and the people. Mai Chau is great for a family vacation with light activities like bicycling, trekking around the countryside.
Homestay is the best choice for accommodation in Mai Chau. Living inside a local Thai stilt house will give you a great insight into the life of the people here. Lac and Pom Coong offer wonderful homestay services with meals and traditional performance at your request.
Mai Chau is also the place for textile lovers to buy brocade products and even learn the process, the traditions related to weaving of Thai women. More useful information Puluong Nature adventure
See detailed itinerary for Puluong nature & Ninh Binh adventure
Ha Giang
Ha Giang is the land of the furthermost point to the north of Vietnam, sharing 270km long border with China. The beauty of Ha Giang is no doubt pristine, wild almost yet at the same time poetic and dramatic.
Home to one of the world's geo parks – Dong Van Karst Plateau Geopark, Ha Giang has a steep roads, rock gardens and marvelous backdrop along all the way of Happiness Road.
From Hanoi, you'll have to endure an 8-hour long car ride before arriving in the paradise. Come to Ha Giang, not only you can enjoy the beautiful landscape but also the authentic local culture and delicious food. Quan Ba, Yen Minh, Dong Van and Meo Vac all have their own charm and features to discover. Hoang Su Phi has some of the most beautiful terraced rice fields in Vietnam, no less. And there's also Khau Vai, the most special Love Market, held only once in a year. More useful information Ha Giang travel guide adventure
See detailed itinerary for Ha Giang Loop
Cao Bang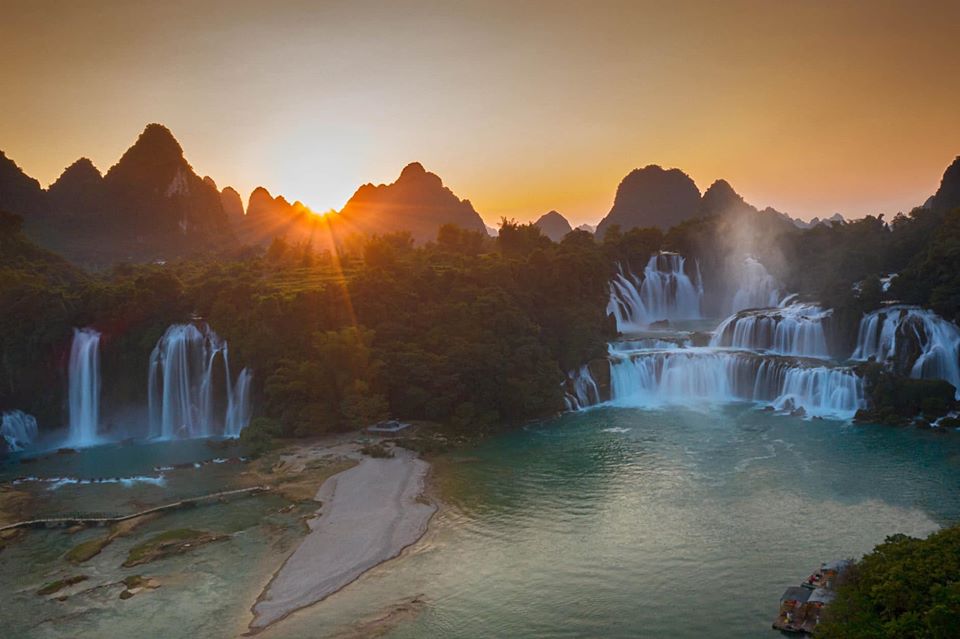 Cao Bang might be the least popular destination of this list but might very well be the most beautiful one. Located about 350km away from Hanoi, people come to Cao Bang not for just the best waterfall in Vietnam – Ban Gioc waterfall but also for a Vietnam you might not see in everywhere else.
The countryside of Cao Bang still reserves the image of the old Vietnam with rice fields, river flowing and bamboo trees. If you come to Cao Bang, besides Ban Gioc, why not explore the cave of Nguom Ngao, come to admire the magical sunset at Phong Nam, or a hop on a boat to see the beautiful lake Thang Hen. The incredible blue lake and stream at Pak Bo would also steal your heart with its beauty. It's not a bad idea at all to combine Ba Be Lake – the largest freshwater lake in Vietnam. More information Bao Bang – Bang Gioc waterfall travel adventure guide
See detailed trip to Cao Bang waterfall adventure & Ba Be Lake
Direct Contact Details
Hotline: + 84-97 33 22 309 and whatsApp/Viber: + 84 369 283 168
How To Book:
Just let us know more information about you & send us an e-mail: tony.vietnam@hotmail.com and whatsApp: + 84 369 283 168
More videos on Tony Vietnam Tours, pls visit on Youtube channel: Tony Tours Vietnam
Keep in touch: https://www.facebook.com/tonyvietnamadventures/
1. Full Name:
2. How many People (Adult & Child):
3. Date of Tour:
4. Tour's Name
More tour information about Northern Vietnam Tour
1.Hanoi – Halong Bay – Ninh Binh Tour – 4 Days

Highlights: UNESCO Sites – Beautiful nature and countryside Vietnam – Photography – Cruising and Boating – Relaxing – Lifetime experiences – Top of places in Vietnam – Individual Guided Tours
2.Amazing Sapa – Ha Giang – Be Be lake adventure Northern Viernam 8days

Highlights: Adventure – Trekking – Hill colorful tribe – Natre & wildlife – rice terraced fields – Boating – Panorama pics – Culture – Authentic local experiences – Beautiful landscape – Individual Guided Tours
3. Best Mu Cang Chai trekking 3 days from Hanoi

Highlights: Adventure – Nature & wildlife – trekking – rice terraced fields – Best photography – colorful hill tribe of Hmong people – Authentic experiences – Individual Guided Tours
4. Northern Vietnam adventure Ha Giang loop – Ban Gioc waterfall – Ba be lake – Cat Ba islands – Hanoi 12 days off the beaten track

Highlights: read more on Tripadvisor 12 day individual guided tour of North Vietnam mountains reviewers on Individual Guided Tours for presenting Best Northern Vietnam Adventure
5. Treasure Vietnam Discovery – Saigon – Ben Tre – Can Tho – Da Lat – Nha Trang – Hoi An – Hue – Hanoi – Sapa – Halong Bay – 18 Days
6. Off track colorful Northern Vietnam – Hanoi – Mai Chau – Moc Chau – Dien Bien Phu – Lai Chau – Sapa – Bac Ha – Ha Giang – Cao Bang – Bac Can – Halong Bay – 16 Days
7. Private Northern Vietnam Highlight Tours recommended: Non Touristy – Off beaten track
Private 4 Days Ninh Binh – Cat Ba island sleeping on floating house/Lan Ha Bay from $399US

Hightlights: Trekking in Cat Ba national park – Boating – Kayaking – Beach – Swimming – Fishing – Floating house stay – Non touristy – Individual Private Guided Tours
Private 5 Days Amazing Ha Giang Loop Adventure off the beaten path from $399US

Hightlights: Nature & wildlife – Trekking – Culture – Panorama pics – Stunning landscape of rocky mountains – windy roads – Colorful Mountain tribe – non touristy – Authentic experiences – Individual Private Guided Tours
Private Bac Ha Market – Hoang Su Phi Adventure Heaven on Earth 4 Days from $389US

Highlights: Nature & wildlife – Trekking – Photography – Colorful mountain ethnic people – Heaven on earth rice terraced fields – Adventure roads – Authentic experiences – Individual Private Guided Tours
Private Ninh Binh – Puluong Nature Adventure off the track 3 Days 2Nights from $299US

Highlights: UNESCO Site – nature & wildlife – rice terraced fields – boating – trekking – culture – off the path – photography – Authentic experiences – Individual Private Guided Tours
Private adventure Ba Be lake – Ban Gioc waterfall 4Days/3Nights from Hanoi from $389US

Highlights: Love for nature & wildlife – boating – trekking – photography – sunrise&sunset – adventure off beaten track – Beautiful village lifestyle – Authentic experiences – Individual Private Guided Tours
8. Halong Bay Cruise Trips (UNESCO World Heritage Site – you want your private Halong Bay tour? no strangers, private junket boat, own itinerary, lovely food ect with Halong private tour one day tour
9. Best peaceful and beautiful Countryside tours: (Hoa Lu/Tam Coc/ Trang An – Peaceful, fresh air of rural party with green mountains, river, cave exploring, as regarding Halong Bay on land Tam Coc/Trang an one day private tour
10. Early Morning walking with Hanoians Tour

Highlights: Hanoi Morning through the Lens – A peaceful and tranquil of Hanoi – Photography Lovers – Walking on street without traffics/ a different beautiful Hanoi Old town – Sunrise – Breakfast & Drinks
11. Best places for photography car tours to Mu Cang Chai – Sapa – Bac Ha – Hoang Su Phi – Ban Gioc waterfalls

Highlights: Best landscape photography – Sunrise/Sunset – Rice terraced fields – Waterfall – Mountain ranges in the misty/shining – Colorful mountain people – Right time/right location to shoot during the day – professional/experienced local photography guides in each location.