Famous for its spectacular scenes, Cao Bang is truly a place to remember. Today, let's unravel the beauty that nature has delicately given to us, which is even more wonderful through the hands of ethnic communities living in this province
Ban Gioc Waterfall
Located in between Vietnam and China, Ban Gioc waterfall is a natural border in the north of Vietnam. When I say "in between", I mean it literally. The waterfall is divided into two parts, with the northern side belonging to China's territory and Vietnam on the other. It claims to be the highest natural waterfall in the Southeast Asia region, reaching to more than 70 meters with three layers of falls and spreading to 208 meters in total width.
Cao Bang has lasting cool weather all year round and it even sees snow in the winter, which is very rare in a tropical country like Vietnam. However, it will not stop you from having the best traveling experience because there is still an excellent amount of sunshine to keep you warm or, you can just soak in the fierce turquoise flows of water with a small rainbow reflecting in through those water drops with the help of the sun. The source of Ban Gioc waterfall is a calm and large river – Quay Son, adding to the feeling that everything seems like it was transported here from a 300-year-old painting made by a distinguished artist in the ancient Han dynasty of China.
Best time to visit
Like every other waterfall in the world, Ban Gioc fall has its own period of low and high water level according to the season. So basically you can visit this breathtaking spot any time in the year. However, there are times when you can experience the very best version of Ban Gioc with the appearance of many more natural touches around this waterfall.
General climate
In broad terms, Cao Bang has two seasons each year, starting with the wet season from June to September, and the dry season from October to May. The first period obviously sees a grander waterfall, the currents become even stronger and sharper. These fiery forces often carry rich alluvial soils straight from the upstream and push it out straight to Quay Son river. Despite the foamy white flow from the waterfall, water at the fall's end usually has a dark brown color. It is a perfect nutrition source for the green life surrounding Ban Gioc, but it might not serve the same efficiency in terms of traveling experience, especially for those who don't know that Cao Bang is still mostly a pristine tourist attraction with little influence of the tourism industry. With this water color, do not mistake it for being contaminated.
The weather during the dry season is much cooler, and there is less rain. The currents are gentle with a beautifully clear turquoise tint to the water. However, the problem with this season is the water amount: "gentle" sometimes means "shallow" if the sun decides to appear more than usual. You can't enjoy Ban Gioc if the water is not deep enough to dive into, right? Let me give you an exclusive solution.
Nguom Ngao cave
Echoing urban legends and stories
Nguom Ngao cave was discovered in 1921 by locals and several foreign visitors who later discovered its age to be hundreds of millions of years old. Located only three kilometers away from Ban Gioc waterfall to the south, you cannot skip this fabulous natural masterpiece, especially when you have visited the waterfall already. With the total length of more than 2,100 meters, Nguom Ngao cave is truly an ideal place for nature-lovers. It has three main gates: Nguom Ngao, Nguom Lom and Nguom Ban Thuon, each of which are Tay names. Their specific meaning when translated into official Vietnamese can tell you a little bit about their story.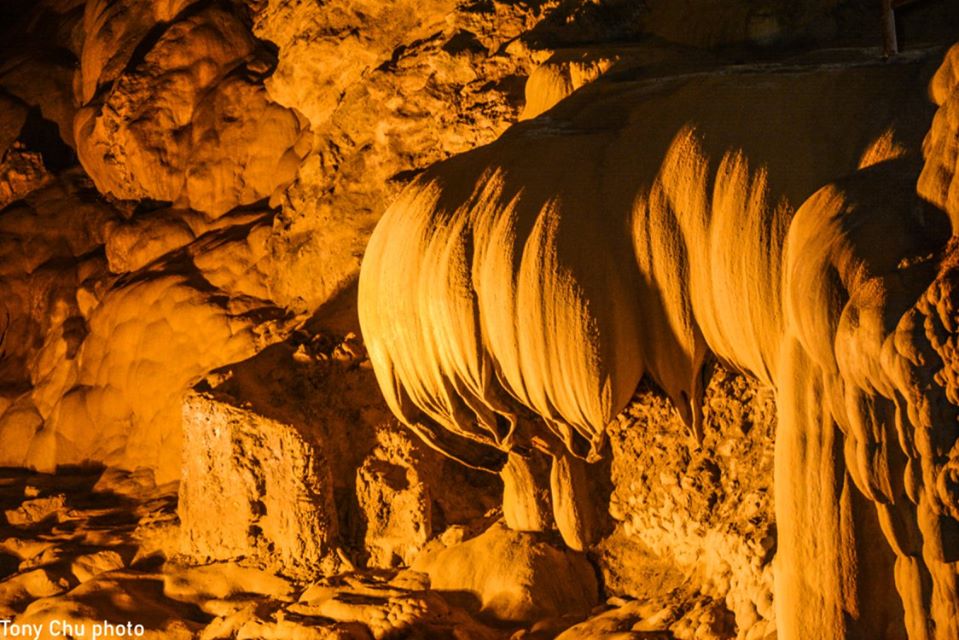 I'll start with the name. "Nguom" means cave and "ngao" means tiger. It is said that this cave used to be the natural habitat of many wild tigers in the past, so the local villagers decided to name it after this. Time went by, and people developed a more interesting reason to explain this name. A frequent sound resembling the thrilling roar of the jungle's mighty lord emanating from the cave confused the locals, but later it was discovered to be the sound of water echoing through the cave walls.
Moving on to the second gate, "lom" means wind and it stands for the geographical design of the gate to the whole area. Tucked under many stone blocks at the foot of the mountain, this gate catches almost all of the wind circulating through the cave and it carries a longstanding cold climate at its site. For the third gate, Ban Thuon is the name of one Tay village situated at the back of the mountain, indicating the cherished bond between men and nature.
Best time to visit
Nguom Ngao cave is remarkable partly thanks to the water dripping through the limestone walls, and nowadays, after time has successfully done its job, inside Nguom Ngao lies one of the most diverse and wonderful limestone forms among caves in Vietnam. That is to say, water is an essential factor helping to advance the visual experience you'll see here, especially now that Nguom Ngao has been constructed for easier visiting with stairs and lights inside the cave.
Wet season in Cao Bang is from June to September, so these months are the best time to visit this cave. This is also very convenient as you can add Ban Gioc waterfall to your itinerary. If you worry about getting too cold inside the cave during the rainy season, my advice is … no worries because the temperature in Nguom Ngao is stable from 18 to 25 degrees Celsius so it should be cool in the dry season and warm in the wet season.
Ban Gioc and Nguom Ngao Tours
Because of the location, many tour operators often offer tours to Ban Gioc waterfall and Nguom Ngao cave with Ba Be lake included as well. This is a natural fresh lake in Northern Vietnam that is absolutely wonderful because of its breathtaking scenes. It's located in Ba Be National Park in Bac Kan province. Although it's quite a long way to go from Ba Be to Ban Gioc and Nguom Ngao, your trip to the northern region of Vietnam will be more complete by adding this amazing lake to the itinerary!
Almost every tour to these destinations always starts in Hanoi city, where you'll be picked up from your hotel. As the distance is quite far, these tours will take you at least three days. When traveling to the sights, you might also have the chance to stop and visit some ethnic communities along the way, or even stay with them through the night in a homestay. A boat trip around Ba Be lake and Ban Gioc waterfall is usually included in the tour package as well.
Direct Contact Details
Hotline: + 84-97 33 22 309 and whatsApp/Viber: + 84 369 283 168
How To Book:
Just let us know more information about you & send us an e-mail: tony.vietnam@hotmail.com and whatsApp: + 84 369 283 168
More videos on Tony Vietnam Tours, pls visit on Youtube channel: Tony Tours Vietnam
Keep in touch: https://www.facebook.com/tonyvietnamadventures/
1. Full Name:
2. How many People (Adult & Child):
3. Date of Tour:
4. Tour's Name:
Check it out for Private adventure Ba Be lake – Ban Gioc waterfall 4Days/3Nights from Hanoi